Pin It
If you don't know about BeFrugal.com - it works a lot like Ebates.com. You recieve cash back of a certain percentage by going through their site before making your purchase from a company, like Ulta or American Eagle! I like to have an account for both sites, that way I can take advantage of which ever cash back percentage is HIGHER when I'm looking to buy!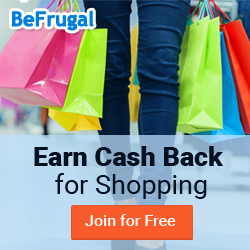 Save some money on nail polish so you can afford to go out and show off your beautiful digits! Use these coupons Jen from BeFrugal found for you guys!:
- Use
this ULTA coupon code
for $3.50 off a $10+ order. Expires 1/19. Get up to
9%
Cash Back
today, too!
- With
this Sephora coupon code
, get a freebie when you buy new polish: enjoy a free deluxe sample with your $35+ order. Expires 1/24. Earn up to
10% Cash Back
today as well.
- Save using
this Avon coupon code
for free shipping with any $10+ order. Expires 1/15. Get
6% Cash Back
also.
- Score a Gelish Nail Kit for just $49.95 with
this Sally Beauty Supply coupon
. Expires soon. Plus earn
12% Cash Back
today.
- Enjoy
this Beauty Bridge coupon code
for 10% off site-wide. Expires soon. Get 15% Cash Back also.
Cash back rates can change from day to day. These rates were valid 1/14.
Join now for free and earn cash back when you shop!
I don't know about you but 6-15% cash back sounds like a damn good deal! ;] I shop online a lot, not just for polish, so any cash back is great to me! They also have a TON of coupons you can use, even printable ones!
Talk to you soon!